MOH's baby, Lily, at a family dinner our first night home. She's 8 months now, and still a little peanut size-wise (excluding her 90th percentile noggin').

Lily's obsessed with pulling herself up on things, a skill she mastered since I'd last seen her two weeks prior. Her older "cousin," Shea-Lynn, checks up on her at day care every day once Shea arrives afterschool, so they're old buds.

I hadn't been drinking. That's just my "dear-god-take-the-photo-before-the-baby-blinks-or-cries-again" look.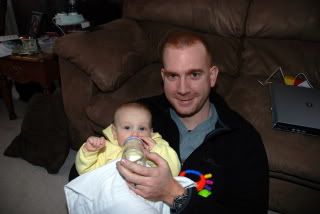 Awwww. I'll spare you all the instructions, hints, directions, rules, and admonitions MOH and I were blasting NavyGuy with while he tried to peacefully give Lily her bottle.
If you enjoyed this post, please consider to leave a comment or subscribe to the feed and get future articles delivered to your feed reader.
Comments
One Response to "Photos from Wisconsin – Part 1"