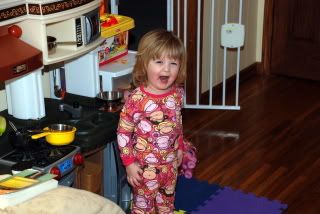 This card shows off new stamps and a new technique. The cupcake is part of the Stampin' Up Darling Dots hostess set. I stamped the cupcake in Lavender Lace and Regal Rose, then cut out the frosting portion of the pink one, and glued it on top of the purple. The technique that I used throughout the card is paper piercing.
Paper piercing is fairly basic and intuitive; you pierce the paper with a sharp object to create little holes in a pretty pattern! (How's that for a technical explanation?) I lack the professional paper piercing implements, so instead I used a needle from my emergency sewing kit. The key to creating neat holes is to place the paper on top of something soft so that the needle or sharp point can go through the paper smoothly. Many crafters suggest using foam, corkboard, or an old mouse pad under the paper; I again lacked real materials, so made do with a small stress ball shaped like Dwight from The Office (I'm nothing if not resourceful).
In the card above, I paper pierced several straight lines just to add borders, but I also added paper piercing to the cupcake, which actually has small dots in the stamp design! Fate!
Here are some other resources and tutorials about this technique. Once I return from my escape to the Central Time Zone and land of Culvers Wisconsin trip, I'll try and put together my own photo tutorial.
Paper Piercing and Faux Stitching
Make Your Own Paper Piercing Template
If you enjoyed this post, please consider to leave a comment or subscribe to the feed and get future articles delivered to your feed reader.
Comments
One Response to "Paper Piercing"