Probably our biggest Christmas gift this year was an item that definitely signals we are full-blown boring adults – NavyGuy's parents got us an instant hot water faucet for our kitchen sink.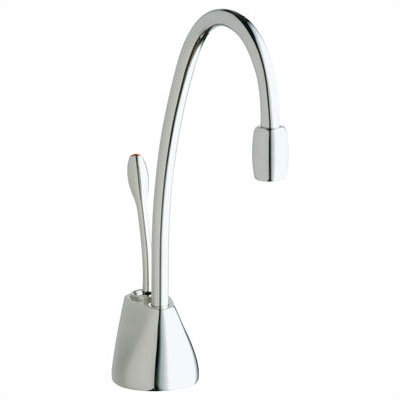 Before visiting their house years ago, I had never seen such a contraption.  (To be fair, before joining the NavyGuy family, I had also never encountered a pickle on a Christmas tree, but alas.)  It's amazing.  You literally pull the handle and near-boiling water flows out.
It was a slight debacle getting it installed of course, because though I am smart about many things, plumbing not being one of them.  I had scheduled a plumber to come on Monday morning and install it.  When he arrived, he looked at the sink and then gently laughed at me.
"Ma'am, there's no hole for the faucet."
Ugh.  Well, at least he had a good story to tell back at the office about the silly little woman who wanted a faucet installed with no hole in the granite for it to fill!  I had assumed that a plumber would have the tools and know-how to be able to cut a hole in the granite, but Mr. Plumber said he wasn't comfortable doing it, since our piece of granite countertop was so big, it would be a real problem if he messed up the hole.  A quick phone call later, and I (luckily) was able to find a countertop technician in Anacortes who could come out that day and drill the hole.
Tuesday morning then, Plumber, Round 2.  The same man and his assistant came back and worked for several hours to install the faucet.  Everything fit underneath the sink nicely (the faucet connects underneath to a hot water tank and a filter), but unfortunately, there was a slight problem.  The filter cap was cracked – it must have broken during shipping, so we have to get Insinkerator to send a replacement.  And Mr. Plumber will have to make a third trip out to re-install the filter.
We've been able to use the faucet in the meantime, it just helps to have the filter to reduce sediment and gunk build-up.  I also opted to get "polished nickel" even though it isn't a perfect match to our existing hardware.  The matching finish was going to cost an extra $200!  Ridiculous!
Look at that beautiful steamy water…
NavyGuy and I drink lots of tea, so it's worth it just for that.  The brochure also highlighted how you can use it to fill pots with water that you plan to heat on the stove for pasta and whatnot, or for scouring dirty pans or stickers that are really stuck on new items, or even to run over baby bottles to heat them up.  I'm smitten.
A huge thank you thank you THANK YOU to NavyGuy's parents! 🙂
If you enjoyed this post, please consider to leave a comment or subscribe to the feed and get future articles delivered to your feed reader.
Comments
One Response to "Voila! Instant Hot Water"