A photo diary of our Christmas morning…
Tally's first Christmas Card from Grandma
NavyGuy's Mom and Dad ready for some present opening
Anti-bacterial wipes… the serious stocking stuffer…
Wisconsin pride!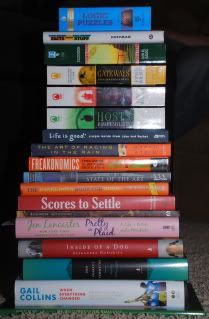 The book haul…
Another present for the pup
NavyGuy's big gift – a Kindle (cuz he can't pack six months' worth of books when he deploys)
Won't. Last. Until. April. Without. New. Episodes!!!!! This t-shirt from Sister-in-Law will have to sustain me.
More gifts for Tally
Sister-in-Law's big gift – a TiVo… which she's been salivating over for way too long
Tally consumed this bone in 20 minutes. Oops. Perhaps we should have been watching more closely… (don't worry – she's fine. Iron stomach on that one.)
Who knows… I probably have a cookie in my mouth.
No… my new stamp pad holder is not a toy for puppies!
What did your holiday look like?
If you enjoyed this post, please consider to leave a comment or subscribe to the feed and get future articles delivered to your feed reader.
Comments
2 Responses to "Christmas Morn"