Cheers… to a good day nannying.  Baby C is just over a year old now and changing every day.  We spent the day inside because the wind was howling and it kept raining sporadically, but we had fun all the same.  C is on always on the move; he's cruising around furniture and racing his walker around the livingroom.  Standing unassisted is the trick of the week – but he only manages it when he's distracted and doesn't realize he's managed it!  I'm keeping my fingers crossed that he waits to take his first steps when mom and dad are home.  Mealtimes are also getting more interesting as he's getting (slightly) more adventurous with solids.  Today was macaroni and cheese!  We were also working on his "soooooo big" arm raising skills.
Jeers… to the current state of our house.  We have five different projects in various stages, so too many things are out of order for my liking.  Everything is a positive upgrade, but the piles of items on tables and counters, tools not put away, and general disarray makes me twitchy.
Cheers… to a fun weekend.  NavyGuy and I watched some House of Cards, saw the Lego Movie (good fun, but had a twist I did not see coming), attended a party with many Navy buddies, and enjoyed a yummy brunch at Calico Cupboard… cinnamon roll heaven.
Cheers… to making progress on a grad school essay while Baby C napped today.  I'm almost finished with Multicultural Education, thank goodness.
Jeers… to spending most of last week with a nasty cold (hence the lack o' posting).  I had to cancel on nannying for three days so I wouldn't spread germs.
Cheers… to a completely low-key and wonderful Valentine's Day.  NavyGuy and I dined on the classy heart-shaped pizza from Papa Murphy's and caught up on the Tivo list.  In my sweatpants.  Bliss.
This past Saturday, a simple brunch out became an adventure.  NavyGuy and I had been hearing rave reviews about a restaurant in a nearby small town – Tweets in Edison, Washington.  It's about 25 minutes from us, so we headed out nice and hungry.
As we turned on the road into town, we ran smack dab into chaos.  Chicken chaos.  The street was filled with people and cars and bikes and birds.  Adults and children wearing chicken hats and scarfs and shirts and even full-body chicken suits.   Actual live chickens in small coops atop Radio Flyer wagons, chickens in owner's arms, chickens in homemade costumes.  Insanity.
We exchanged a look between the two of us – did we want to face this and try to still get to our brunch spot?  Spoiler Alert – we did, and it all worked out great.
This was the view from our table at the restaurant.  We got parked and weaved our way through the chicken crowd to Tweets.  They had a cute chalkboard menu of trendy brunch items, a stocked pastry case, and an espresso bar.  The clerk filled us in on the chaos outside.  Edison was having its third annual "Bird Festival" and the parade was just about to start!  Who knew we would be getting a meal AND entertainment?

The food at Tweets was completely worth the unexpected chicken barrage.  NavyGuy enjoyed a polenta dish that filled him up.
I had the biscuit sandwich, which was a sunnyside up egg on a homemade biscuit, with a mustard aioli sauce and a creamy fresh greens salad.  The bacon was also delicious.  We watched the (short) chicken parade and finished our coffees.  Our timing worked out perfectly because the restaurant filled up with people after the parade ended.
On our way back to the car, we checked out what else the main street of Edison had to offer.  There are a few more lunch spots we'd like to try.  At the end of the street, the two of us stumbled into a high-end art gallery that was featuring all bird themed pieces.  I tried to convince NavyGuy that the egg sculpture would be a nice addition to the backyard, but he wasn't sold.
And that's how a simple Saturday brunch turned into an egg-celent adventure!  (Sorry, I couldn't resist one bird pun 🙂
When NavyGuy leaves work each day, he texts me two things:
"Omw" (meaning, on my way) and "What's the plan for dinner?"
Sometimes I have a nice plan – a healthy protein, vegetables, maybe even dessert.  Sometimes the plan is for NavyGuy to go pick-up whatever take-out we order.  After a gathering earlier in the week, now I have a better answer.
My friend Daryl invited me to join she and a few other ladies in a freezer meal exchange.  The rules were:
– make 8 versions of a complete meal that can be frozen, which includes one for yourself
– try to use healthy ingredients, whole grains, vegetables, etc.
– include a recipe card, with cooking instructions for the meal (from frozen)
– share what you're bringing with the Facebook group ahead of time to avoid duplicates
Everyone got together Monday night to exchange meals.  I made Sara's Cafe Latte Chicken Salsa Chili, so I provided a ziplock bag of frozen chili (with instructions to defrost and cook in the crockpot), as well as a bag of tortilla chips to go along with the meal.  All told, I probably spent $60-70 on the ingredients, but I ended up with 8 dinners, so it worked out to around $8 for each meal – totally economical, especially considering that most of the meals should feed NavyGuy and I for two nights.  Aside from my chili, I came home with Thai peanut chicken (with rice); a chard tart; chicken pot pie; stuffed peppers; roasted vegetable enchiladas; lasagna; chicken divan.  I love that many of the entrees are things that I don't usually make – it's nice to have some variety after a while, when we start to get sick of the same old options.
Cooking and assembling 8 full batches of your own meal is not a small feat.  To make all the chili took about three hours of my time, and required most of the bowls in my kitchen.  However, I kept reminding myself that I was working for one three hour period, and that was replacing the planning, shopping, cooking, and (mostly) cleaning for seven more dinners!
I'm crossing my fingers that each meal actually tastes good.  So far, we've had the stuffed peppers, which provided two nights of deliciousness.  And here I always thought I hated red peppers!  Now the only trick is thinking ahead and taking a meal out of the freezer ahead of time!
Probably our biggest Christmas gift this year was an item that definitely signals we are full-blown boring adults – NavyGuy's parents got us an instant hot water faucet for our kitchen sink.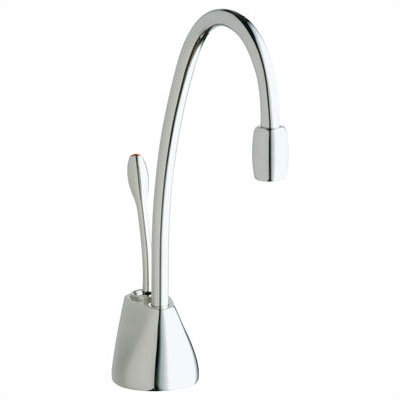 Before visiting their house years ago, I had never seen such a contraption.  (To be fair, before joining the NavyGuy family, I had also never encountered a pickle on a Christmas tree, but alas.)  It's amazing.  You literally pull the handle and near-boiling water flows out.
It was a slight debacle getting it installed of course, because though I am smart about many things, plumbing not being one of them.  I had scheduled a plumber to come on Monday morning and install it.  When he arrived, he looked at the sink and then gently laughed at me.
"Ma'am, there's no hole for the faucet."
Ugh.  Well, at least he had a good story to tell back at the office about the silly little woman who wanted a faucet installed with no hole in the granite for it to fill!  I had assumed that a plumber would have the tools and know-how to be able to cut a hole in the granite, but Mr. Plumber said he wasn't comfortable doing it, since our piece of granite countertop was so big, it would be a real problem if he messed up the hole.  A quick phone call later, and I (luckily) was able to find a countertop technician in Anacortes who could come out that day and drill the hole.
Tuesday morning then, Plumber, Round 2.  The same man and his assistant came back and worked for several hours to install the faucet.  Everything fit underneath the sink nicely (the faucet connects underneath to a hot water tank and a filter), but unfortunately, there was a slight problem.  The filter cap was cracked – it must have broken during shipping, so we have to get Insinkerator to send a replacement.  And Mr. Plumber will have to make a third trip out to re-install the filter.
We've been able to use the faucet in the meantime, it just helps to have the filter to reduce sediment and gunk build-up.  I also opted to get "polished nickel" even though it isn't a perfect match to our existing hardware.  The matching finish was going to cost an extra $200!  Ridiculous!
Look at that beautiful steamy water…
NavyGuy and I drink lots of tea, so it's worth it just for that.  The brochure also highlighted how you can use it to fill pots with water that you plan to heat on the stove for pasta and whatnot, or for scouring dirty pans or stickers that are really stuck on new items, or even to run over baby bottles to heat them up.  I'm smitten.
A huge thank you thank you THANK YOU to NavyGuy's parents! 🙂
Much more fun than just one resolution…
You're welcome to add your answers below!
NavyGuy headed south for a boat det.  He's supposed to be home in time to watch the Super Bowl.  Because of geography, we're SeaHawks fans for the next 10 days.  Even though I find the 12th Man thing completely ridiculous.  Ri-dic-u-lous.
I'm working my way through Season 3 of Breaking Bad.  Yeah bitch!
I also got a trim.  And added bangs.  Cuz why not?  If Ms. Deschenal and Ms. Swift can rock them,then so can I 🙂
Tally is following Tyra's modeling rule of only smiling with her eyes, but she approves of the new look.
We're rushing full-steam ahead to the Oscars folks!  Nominations were announced last week, with nine films nominated for Best Picture:
American Hustle
Captain Phillips
Dallas Buyers Club
Gravity
Her
Nebraska
Philomena
12 Years a Slave
The Wolf of Wall Street
NavyGuy and I have now seen four of the films… American Hustle, Gravity, Philomena, and 12 Years a Slave.  I also saw Captain Phillips with Andrea.  (Captain Phillips is available on DVD now, so NavyGuy can easily catch up.)  As we've done for several years, we are going to watch all of the nominees – it's good to set goals in life! 😉  Here's what I thought of the two most recent flicks we viewed:
American Hustle
Four well-deserved acting nominations for the major players.  I am completely drinking the Jennifer Lawrence kool-aid and will see anything she's in.  Her role in this movie is hilarious and elicits some of the best scenes.  There's an entire plot point about a microwave (which was a major technological advance for the 1970s) and NavyGuy and I have been quoting a line about it everyday since ("Don't put metal in the science oven Rosalyn!")  The costumes and hair and make-up are amazing, and it's a really enjoyable film to watch, which is not always the case with the prestigious films the Academy nominates.
Philomena
NavyGuy complained to no end about going to see this, and I wasn't super jazzed, but we both had to eat our words as we walked out of the theater.  Of course, Dame Judi Dench is marvelous, but the whole cast really sells their roles.  There are some amazing twists and turns in the plots – really heartbreaking moments that I never saw coming.  This is exactly the type of movie that the Academy wanted to be able to nominate when they changed the rules to include up to 10 best picture candidates.  I highly doubt it will win the top prize, but hopefully the nomination gets it some increased exposure so more people will see this gem.
This recipe is stolen from Keah, and is one of the most dependable meals in my arsenal.  NavyGuy gobbles it up every time, it freezes well, it's easy to prep, and it's relatively healthy (you could swap out lower-sodium versions of many of the ingredients, or use fresh onions and tomatoes instead of jarred salsa).
Crockpot Chicken Chili
– 2 or 3 large chicken breasts
– 2 (16oz) jars of salsa
– 1 small can of green chilis
– 1 can diced tomatoes
– 2 tsp garlic powder
– 1 tsp ground cumin
– 2 tsp chili powder
– 1 can Mexican style corn
– 1 can black beans
Serve with sour cream, shredded cheese, tortilla chips.
Combine everything in the crockpot, simmer all day on low (approx 8 hours).  Before you serve, remove chicken and shred.  Return the shredded chicken to the pot and enjoy!
This past Friday was Family Day for NavyGuy's squadron.  It was their last day of preparations before they head to San Diego for a boat det.  So on their last day of "bouncing" (FCLPs, or field carrier landing practice), they invited any interested family members to come in, observe a brief, and then view the flights from the LSO (landing signal officer) shack.  Basically, it's the closest a civilian can be to watch a flight.  The LSO is a pilot who stands on the ground (or on the deck of the carrier) to guide the pilot who is flying; the LSO gives him information on how high or low the plane is, or generally how accurate the landing will be.
I arrived at the squadron ready room (lounge) around 9:30a, and listened to the LSO give the brief to all the pilots and NFOs who would be participating.  Afterwards, they sorted out who had family visiting and ran through the order of flights.  NavyGuy got assigned last (blergh), so we had lots of time to sit around.  And I discovered the truth of what NavyGuy spends most of his work day doing during a bounce period…
…drinking coffee and watching ESPN!  Such a hard life.  Sit around in pajamas, drink coffee, maybe grab a donut, watch a little news, shoot the shiznit with your fellow aviators who are also sitting around.  🙂  I'm told that the hours of relaxing balance out against the forty minutes or so of intense flying, but I'm still not sold 😉
Proof he did a smidge of work outside the airplane; here he's covering for one of the officers at the duty desk.
Eventually, it was NavyGuy's turn to fly.  His pilot, call sign Job, also had family visiting.  NavyGuy and Job went down to the hangar to get suited up and into the jet, while Job's family and I hopped into a van and were driven out to the LSO shack.
Here's the LSO (and the shack) lined up on the runway as a Growler comes in for a touch-and-go landing.  When the pilots are bouncing, they literally just fly around and around in a circle, and land for a split second, then take off again.  It's all to practice their landing for when they have to do it on the aircraft carrier.  The runway has markings to show the pilots where the carrier deck would be.  The LSO uses "the pickle" (the long cord thing he's holding in the photo above) to flash various lights on a light board.  Those different lights indicate landing information to the pilots.  The LSO is also observing the pilots' landings overall to provide feedback and grades.
Photograph taken by another friend who was at Family Day – a Growler taxiing.
The Growler (friend photo).  The Growler is a two-seater, with the pilot in front, the NFO behind.
(Friend photo)… a Growler that's just landed, using their afterburners (the red thing) to quickly get a lot of thrust for the coming take-off.
(Friend photo)… the light board thingy is called the IFLOLS (improved fresnel lens optical landing system).  It's what the LSO is directing with the pickle.
The sun had popped out by the time it was NavyGuy's turn.  We watched them fly the pattern and bounce for about twenty minutes.  It is unbelievably loud (it would put Century Link / 12th Man nonsense to shame), especially when the LSO signaled a wave-off.  You could feel it in your chest and stomach, and hear it even with ear plugs.  I'm very happy I went – probably the coolest "take-your-wife-to-work" day you could get.
My thoughts on nannying, after two days of work:
… C is a super sweet little boy, and I'm excited to do this job for a while.  Obviously it's only been two (relatively) easy days, but the experience has helped solidify the idea that I want to be a stay-at-home mom.  I enjoy playing with him, and doing household chores, and planning playdates and outings, and researching and thinking about his development.  I'm exhausted, but happy.
… possibly the most physically challenging aspect of the job is maneuvering him in and out of his carseat.  C is eleven months old, and no slouch in the weight percentile 🙂  Lifting him in and out of a rear-facing carseat, in the middle of the backseat of a Ford Explorer is going to either provide my complete arm and back workout for the foreseeable future, or put me in traction.  C is at that tough point where he's quite heavy to move around, but he's not old enough to be able to really help at all.  Alas, it's part of the deal.
… the other current challenge is mealtimes.  C is starting to reach the stage where he is NOT interested in being confined to a highchair.  He recently started on whole milk (instead of breastmilk), which has also lessened his appetite, compounding the problem.  I've got to pull out quite the song and dance routine to get him fed.  We're going to try some different high chair arrangements tomorrow (no tray, pull the chair up to the kitchen counter or table, etc.) to see if that helps.  Cross your fingers!
… knock on wood, C is a very good sleeper.  He's been taking a solid two hour nap around noon each day, and goes down without much fuss.  (Knock on wood again, please.)  I so appreciate that break in the middle of the day to recharge.  I only have a few chores to do around the house (C's dishes and food prep, vacuum his play area, and baby laundry once a week or so), which means so far I've been able to get most of that done while he's awake, and I can use naptime to work on grad work, read, watch a tv show, or make phone calls and such.  I really hope this bliss lasts!
… the family has hired another Navy wife to be a co-nanny of sorts.  She and I are going to split the job starting next week, so we'll each only have to work 2 or 3 days a week, and have some free time.  It's also good because then if one of us is sick, the other can fill in, vacations, flexibility for random Navy things that come up, etc.  I met the other nanny yesterday and she's fabulous.  She's Australian, and very nice.  Obviously, I won't see her very often, but we'll see what happens.
Gotta go Pinterest some toddler activities!